Artist Biography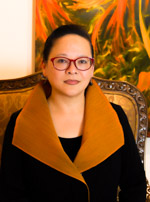 Judy Jing Pang is a Chinese-American artist, specializing in classical style oil painting. Born in the city of Chengdu, China, she graduated with a
bachelor's degree in the Department of Music Theory from The Central Conservatory of Music in Beijing. While in the conservatory, she studied
Guqin (a traditional seven string Chinese zither). She also studied traditional Chinese painting under a famous traditional Chinese painter Mrs.JiYing Liu for four
years. After graduating from the conservatory, she taught both music history and Chinese music theory at Beijing Dance Academy.
After arriving in the United States, Pang began to study western painting, experimenting with watercolor, acrylic, tempera and, finally, settling on
oil painting. She studied at Pasadena Art Center for more than five years and has hand-painted copies of numerous works from classical oil-painting
masters such as William-Adolph Bouguereau, Peter Paul Rubens, and Ilya Yefimovich Repin.
"Every time I paint a copy of one those masterpieces, I lose myself in the process," Judy Pang reflects, "At times, it feels as though I am conversing
with the invisible spirit of the artist. And with each brushstroke that falls on my canvas and every minute observation of the original work, I strive
not only to achieve the physical likeness of the original piece, but also to instill in my copy the essence of the original's soul and aura."
After establishing Judy Jing Pang Art Studio (JJP Art Studio), Judy opened her own gallery called JJP Gallery, which is located in the city of Ontario.